Guys and Girls
by Berni Dymet
Prov. 5:3-6 For the lips of a loose woman drip honey, and her speech is smoother than oil; but in the end she is bitter as wormwood, sharp as a two-edged sword. Her feet go down to death; her steps follow the path to Sheol. She does not keep straight to the path of life; her ways wander, and she does not know it.
For most people, the Christian perspective on sexuality and fidelity is - well, a bit old fashioned, irrelevant, prudish. No sex before marriage … all that stuff. Come on! The world just doesn't work that way anymore.
Well - let me share some stats with you because the facts about marital infidelity are astounding. Polls in the US show that although 90% of married people disapprove of extramarital relationships, 15% of wives and 25% of husbands have experienced extramarital sexual relationships. Add another 20% for those who've had emotional affairs and relationships without the sex. So - 35% of married women and 45% of married men have had an affair.
That's frightening! A marriage is supposed to be the most wonderful relationship - fulfilling, lifelong soul mates. And yet almost half of all men and over a third of all women have some sort of affair. Doesn't that blow you away?
Maybe those Christians aren't as prudish as we thought.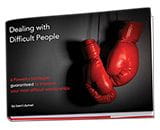 Get a Free eBook from Berni Dymet, Dealing with Difficult People. This timely and relevant eBook contains 6 powerful principles guaranteed to improve your most difficult relationships. And you can download it FREE, right now.