from Day by Day with the Persecuted Church

If we live, we live to the Lord; and if we die, we die to the Lord. So whether we live or die, we belong to the Lord. (Romans 14:8)
Lung Singh
Singh's brother was the leader of a Communist group in the area where Singh lived. He was furious about Singh's conversion - and especially about Singh's continued Christian "propaganda." The reason why he decided to visit Singh was to warn him not to be actively involved in evangelism. "I can't stop you believing in your religion," he told Singh, "but I warn you, don't talk about it. If you do, the consequences will be yours."
That evening Singh and his wife discussed the situation. They realized what the consequences would be if they continued to witness for Christ. Should they decide to only believe in their hearts - and thus escape arrest? Their discussion did not take long. They had made up their minds. "If we live, we live for the Lord, whatever the consequences might be. And if we die, we die for the Lord." They finished their discussion with a time of prayer together, followed by singing their love-song; "We have decided to follow Jesus, no turning back."
When Singh's brother learned about their decision he went over to their house again, taking some Communist soldiers along - and arrested Lung Singh and his wife Bunmah. They were taken into the forest, from where they never returned.
"Whether we live or die, we belong to the Lord."
"Be faithful, even to the point of death, and I will give you the crown of life" (Revelation 2:10).
"Well done, good and faithful servant ... come and share your master's happiness" (Matthew 25:21).
Writer of the Month: Lung Singh from Laos. He did not write his own contributions, but Jan Pit has edited his experiences and remarks and printed them under his name in this devotional. His life story is recorded in the book No Turning Back by Jan Pit, Marshall Pickering, 1985. According to rumors Singh was killed by his brother because of his faith in Jesus Christ.
Copyright [C] 1995 Open Doors International. Used by permission.
Click here to sign up for a free monthly newsletter from Open Doors about persecuted Christians.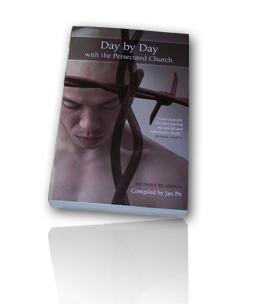 Day by Day with the Persecuted Church
compiled by Jan Pit with a forward by Brother Andrew (paperback, revised 2000)
Compelling wisdom from the pen of actual believers living amidst persecution, you'll be connected to the suffering, courage, and depth of life that exists in the harshest places in the world. Each of these 365 thought-provoking devotions will deepen your understanding of Christian persecution and provoke you to pray for our brothers and sisters with a new found depth.