from Day by Day with the Persecuted Church

By faith... (Hebrews 11:3)
Mona Khauli
Faith is:
· Expecting God to accomplish miracles through my five loaves and two fishes. He can use me.
· Rejecting the feeling of panic when things seem out of control. He is in control.
· Confidence in God's faithfulness to me in an uncertain world. He holds the future.
· Depending on the fact that God loves me, not on my ability to figure out how or why. He can be trusted.
· Thanking God for his gift of emotional health, not assuming it all stems from my ability to cope with stress. He provides.
"...I do believe; help me to overcome my unbelief" (Mark 9:24).
Writer of the Month: Mona Khauli from Lebanon. Instead of leaving her country to seek peace, she chose to stay at great risk. She testifies of God's miracles.
Copyright [C] 1995 Open Doors International. Used by permission.
Click here to sign up for a free monthly newsletter from Open Doors about persecuted Christians.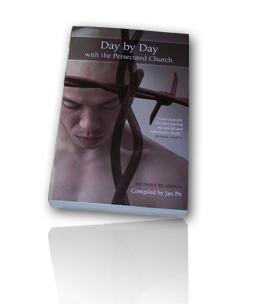 Day by Day with the Persecuted Church
compiled by Jan Pit with a forward by Brother Andrew (paperback, revised 2000)
Compelling wisdom from the pen of actual believers living amidst persecution, you'll be connected to the suffering, courage, and depth of life that exists in the harshest places in the world. Each of these 365 thought-provoking devotions will deepen your understanding of Christian persecution and provoke you to pray for our brothers and sisters with a new found depth.