from Day by Day with the Persecuted Church

I, however, followed the Lord my God wholeheartedly. (Joshua 14:8
You have followed the Lord my God wholeheartedly. (Joshua 14:9)
He followed the Lord, the God of Israel, wholeheartedly. (Joshua 14:14)
Caleb
We learned yesterday that the secret to Caleb's success was faith. Today we will learn about the condition of having such faith. It can be summed up in one sentence, Caleb followed the Lord wholeheartedly. No reservations, no compromise, only undivided allegiance to God.
We read this statement three times in Joshua 14. The first mention comes from Caleb himself. This was not proud boasting, but a sober statement of fact. Dare we, can we say this about our walk with God? Some people never dare say this. Others say it too easily.
The second mention comes from Moses, saying the same words. That is even more important than Caleb's own statement. What do other people see of Christ in me? How do they sum up my life? But the most important testimony comes from God himself, the God who discerns the hidden secrets of the heart.
"O Lord, you have searched me
and you know me...
you perceive my thoughts from afar...
you are familiar with all my ways."
(Psalm 139:1-3)
There can only be one response to this statement.
"Search me, O God, and know my heart;
test me and know my anxious thoughts.
See if there is any offensive way in me
And lead me in the way everlasting."
(Psalm 139:23-24)
Copyright [C] 1995 Open Doors International. Used by permission.
Click here to sign up for a free monthly newsletter from Open Doors about persecuted Christians.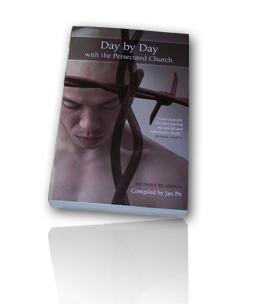 Day by Day with the Persecuted Church
compiled by Jan Pit with a forward by Brother Andrew (paperback, revised 2000)
Compelling wisdom from the pen of actual believers living amidst persecution, you'll be connected to the suffering, courage, and depth of life that exists in the harshest places in the world. Each of these 365 thought-provoking devotions will deepen your understanding of Christian persecution and provoke you to pray for our brothers and sisters with a new found depth.