from Day by Day with the Persecuted Church

Answer me when I call to you, O my righteous God. Give me relief from my distress; be merciful to me and hear my prayer. (Psalm 4:1)
Mehdi Dibaj defense - part 5
"The God of Job has tested my faith and commitment in order to strengthen my patience and faithfulness. During these nine years He has freed me from all my responsibilities so that I could spend my time in prayer and study of His Word, with heart searching and brokenness, and grow in the knowledge of my Lord. I praise the Lord for His unique opportunity. He gave me space in my confinement, my difficult hardships brought healing and His kindness revived me. Oh what great blessings God has in store for those who fear Him.
People object to my evangelizing, but 'If you find a blind person near a well and keep silent than you have sinned.' (A Persian poem.)
It is our Christian duty, as long as the door of God's mercy is open, to convince evil doers to turn from their sinful ways and find refuge in Him, in order to be saved from the wrath of a righteous God and from the coming dreadful punishment."
Mehdi Dibaj is from Iran. While this book was being compiled, Mehdi Dibaj had been in prison for nine years. Early in 1994 he was released, but was murdered six months later. His courtroom defense was edited to form part of this book.
Copyright [C] 1995 Open Doors International. Used by permission.
Copyright [C] 1995 Open Doors International. Used by permission.
Click here to sign up for a free monthly newsletter from Open Doors about persecuted Christians.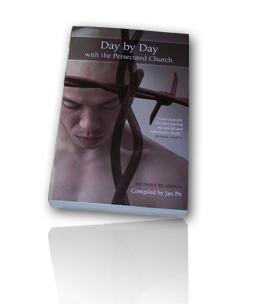 Day by Day with the Persecuted Church
compiled by Jan Pit with a forward by Brother Andrew (paperback, revised 2000)
Compelling wisdom from the pen of actual believers living amidst persecution, you'll be connected to the suffering, courage, and depth of life that exists in the harshest places in the world. Each of these 365 thought-provoking devotions will deepen your understanding of Christian persecution and provoke you to pray for our brothers and sisters with a new found depth.