from Day by Day with the Persecuted Church

David feels desperate. He is in deadly danger, like somebody who is drowning in a swamp. He can just about keep his head above the water. In this desperate situation he cries out to God. But it seems like God is turning a deaf ear to him. David thinks his end is near. He continues to pray and cry out to God. He is afraid that if he dies, other believers may stumble and lose their faith in the God of David. God's name is at stake.
David
Save me, O God, for the waters have come up to my neck.
I sink in the miry depths, where there is no foothold. I have come into the deep waters; the floods engulf me.
I am worn out calling for help; my throat is parched. My eyes fail, looking for my God.
Those who hate me without reason outnumber the hairs of my head; many are my enemies without cause, those who seek to destroy me. I am forced to restore what I did not steal.
I will praise God's name in song and glorify him with thanksgiving.
This will please the Lord more than an ox, more than a bull with its horns and hoofs.
The poor will see and be glad - you who seek God, may your hearts live!
The Lord hears the needy and does not despise his captive people.
(Psalm 69:1-4,30-33)
Copyright [C] 1995 Open Doors International. Used by permission.
Click here to sign up for a free monthly newsletter from Open Doors about persecuted Christians.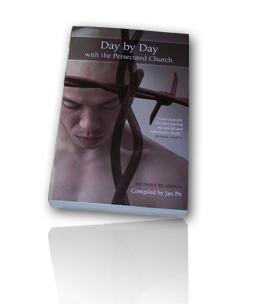 Day by Day with the Persecuted Church
compiled by Jan Pit with a forward by Brother Andrew (paperback, revised 2000)
Compelling wisdom from the pen of actual believers living amidst persecution, you'll be connected to the suffering, courage, and depth of life that exists in the harshest places in the world. Each of these 365 thought-provoking devotions will deepen your understanding of Christian persecution and provoke you to pray for our brothers and sisters with a new found depth.