from Day by Day with the Persecuted Church

Now when Daniel learned that the decree had been published, he went home to his upstairs room... he got down on his knees and prayed, giving thanks to his God, just as he had done before.
Daniel
This text forms the climax of Satan's attack on God's people.
It began with a trick (chapter 1), followed by compromise (chapter 3) and now comes the climax; all contact with God is forbidden. Prayer must become silenced. Folded hands are an atrocity in the eyes of Satan.
Prayer has been well named the breath of the soul. If the breath is cut off you automatically die - this also applies to the spiritual life. Daniel had already fought with the lions when there was no lion to be seen. The roaring lion crept up on Daniel in his private room - not in the lions den. When Daniel was thrown to the visible lions he had already wrestled with the invisible lion and... won. Therefore the visible lions in the den were unable to do anything to Daniel, for there was no more 'flesh' on him. Do we see the tactic of Satan - he who goes round as a roaring lion, seeking whom he may devour? The contact with God must always be there. Praying Christians are a danger to the powers of darkness. God is seeking such pray-ers.
'Lord, teach us to pray.'
Copyright [C] 1995 Open Doors International. Used by permission.
Click here to sign up for a free monthly newsletter from Open Doors about persecuted Christians.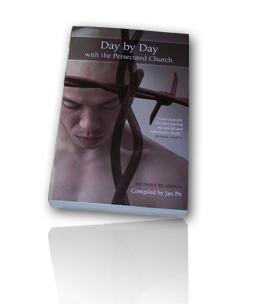 Day by Day with the Persecuted Church
compiled by Jan Pit with a forward by Brother Andrew (paperback, revised 2000)
Compelling wisdom from the pen of actual believers living amidst persecution, you'll be connected to the suffering, courage, and depth of life that exists in the harshest places in the world. Each of these 365 thought-provoking devotions will deepen your understanding of Christian persecution and provoke you to pray for our brothers and sisters with a new found depth.