from Day by Day with the Persecuted Church

David thanks the Lord for his help and salvation. We so often forget to do that. David recognizes the help of the Lord and thanks him for it.
Not to him, the king, is honor due; but to Him, the heavenly King.
David
I will praise you, O Lord, with all my heart; I will tell of all your wonders.
I will be glad and rejoice in you; I will sing praise to your name, O Most High.
My enemies turn back; they stumble and perish before you.
For you have upheld my right and my cause; you have sat on your throne, judging righteously.
You have rebuked the nations and destroyed the wicked; you have blotted out their name forever and ever.
Endless ruin has overtaken the enemy, you have uprooted their cities; even the memory of them has perished.
The Lord reigns forever; he has established his throne for judgment.
He will judge the world in righteousness; he will govern the peoples with justice.
The Lord is a refuge for the oppressed, a stronghold in times of trouble.
Those who know your name will trust in you, for you, Lord, have never forsaken those who seek you.
(Psalm 9:1-10)
Copyright [C] 1995 Open Doors International. Used by permission.
Click here to sign up for a free monthly newsletter from Open Doors about persecuted Christians.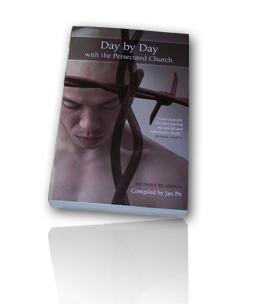 Day by Day with the Persecuted Church
compiled by Jan Pit with a forward by Brother Andrew (paperback, revised 2000)
Compelling wisdom from the pen of actual believers living amidst persecution, you'll be connected to the suffering, courage, and depth of life that exists in the harshest places in the world. Each of these 365 thought-provoking devotions will deepen your understanding of Christian persecution and provoke you to pray for our brothers and sisters with a new found depth.