from Day by Day with the Persecuted Church

Joseph had a dream, and when he told it to his brothers, they hated him all the more. (Genesis 37:5)
Pharaoh said to Joseph, "I had a dream, and no one can interpret it. But I have heard it said of you that when you have a dream you can interpret it." "I cannot do it," Joseph replied to Pharaoh, "but God will give Pharaoh the answer he desires." (Genesis 41: 15, 16)
Joseph
Dreams are empty, the saying goes. That's how it seemed in Joseph's life. His brothers did not bow down before him, as he had dreamt; instead he had to bow deeply before them. No respect, but rejection. No throne but a prison. His dream world collapsed. Thirteen difficult years of imprisonment followed. From the age of seventeen until the age of thirty. What could have been the best years of his young life became the most difficult ones.
He could have asked (and maybe he did!) "What about my dreams?" In spite of all these "broken dreams" he remained faithful to God. No regrets, only service. Instead of complaining he proclaimed the greatness of God. Instead of dreaming about his past, he explained the dreams of others regarding the future.
His many years of imprisonment excelled in faithfulness, purity and servitude. As a result he was victorious despite the circumstances. "…the Lord was with Joseph and gave him success in whatever he did" (Genesis 39:23).
Victorious living will always be the reward for those who live up to God's standards. Why should you not be that person?
Copyright [C] 1995 Open Doors International. Used by permission.
Click here to sign up for a free monthly newsletter from Open Doors about persecuted Christians.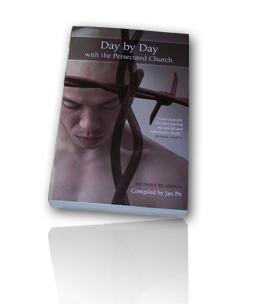 Day by Day with the Persecuted Church
compiled by Jan Pit with a forward by Brother Andrew (paperback, revised 2000)
Compelling wisdom from the pen of actual believers living amidst persecution, you'll be connected to the suffering, courage, and depth of life that exists in the harshest places in the world. Each of these 365 thought-provoking devotions will deepen your understanding of Christian persecution and provoke you to pray for our brothers and sisters with a new found depth.