from Day by Day with the Persecuted Church

You need to persevere so that when you have done the will of God, you will receive what he has promised. (Hebrews 10:36)
Abraham
A right motive - a wrong method.  That is what happened when Abraham took Hagar to secure a successor. Instead of waiting for God's timing, he tried to help God fulfill His promise.
It is always dangerous to take things into your own hands. Abraham adopted carnal means to achieve a spiritual end. The consequences were enormous and are still being felt today. God's chosen successor was Isaac, from which line came Jesus Christ. Abraham's chosen plan was Ishmael, from which line came Mohammed. Through faith Abraham was to become a blessing to all the nations. Through unbelief one of the greatest foes of Christ would be born, the founder of Islam which claims that God has no Son.
Abraham had to send Ishmael away. He did so, with only a water bottle, yet God took care of Ishmael. When the boy would have died of thirst God provided more than a water bottle, he provided a well.
He still does.
May all of Ishmael's offspring drink from that fountain of living water provided by God, through Jesus Christ, His Son. May we be willing to be God's channels.
Copyright [C] 1995 Open Doors International. Used by permission.
Click here to sign up for a free monthly newsletter from Open Doors about persecuted Christians.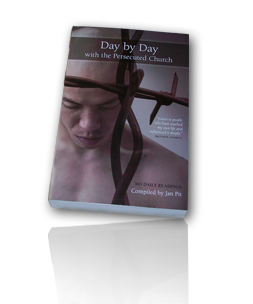 Day by Day with the Persecuted Church
compiled by Jan Pit with a forward by Brother Andrew (paperback, revised 2000)
Compelling wisdom from the pen of actual believers living amidst persecution, you'll be connected to the suffering, courage, and depth of life that exists in the harshest places in the world.  Each of these 365 thought-provoking devotions will deepen your understanding of Christian persecution and provoke you to pray for our brothers and sisters with a new found depth.
 To order your copy of this devotional, click