The ego hates losing, even to God. — Richard Rohr, Falling Upward
If you were honest, how much do you trust God's Spirit? Are you the preventative measure person—working ahead of God's Spirit, accomplishing what you can, and asking Him to tie up your loose ends?
Or do you wait on Him to lead and then agree to follow? Are you cool with loose ends and unknowns?
It's hard, isn't it? Relinquishing control goes against the flesh. Our society values independence, and the flesh is all about independence. But God's Kingdom values dependence and unity and surrender.
So where are you in your trust fall with God?
"Stop. Trust the Holy Spirit has your best interests in mind and listen."
TWEET THIS
Some of you are consistently walking in the Spirit. None of us are nailing it—that will happen when we meet Jesus. But many are mostly surrendering to the Spirit and living out the benefits! Your relationships show it. You are pure and growing. It's the best way. So keep going and don't stop.
Some of you are consistently walking in the flesh. When asked if your life would look any different if the Holy Spirit had been removed, you're like, "Nope. It would be exactly the same." Relationships are full of strife. You gratify impulses. You do what you want rather than how God leads. You're going to destroy relationships and hurt people who love you. It's reckless. So take the warning! Stop. Trust the Holy Spirit has your best interests in mind and listen.
There are a bunch of you who do a fantastic job trusting the Holy Spirit in all areas—except for those few you like to hold on to, right? You can't let go of these because, if you're honest, you think you can do a better job with them than He can. You fail to believe in the supreme power of the Holy Spirit. Maybe you control money, relationships, or decisions. I want to encourage you to let go. Ask the Holy Spirit to take it from you. Tell Him it's His.
Father, I like to feel safe and in control. Uncertainty scares me, and there is a lot of uncertainty in the dance of freedom. Whom will I meet? Where will I go? What will it cost? Make surrender and dependence the beat of my heart. I choose to follow You. I choose to trust in You. I rest in the fact that You promise to live out this choice through me. Amen.
Listen to Pete, Jill & Stuart Briscoe on the Telling the Truth broadcast at OnePlace.com
SPECIAL OFFER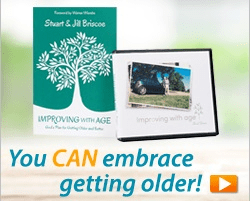 You CAN embrace getting older!
Aging isn't something to be shunned or simply endured. You can be full of joy and purpose in every season of life. Learn how with Stuart and Jill Briscoe's book, Improving with Age, as well as Stuart's companion 6-message DVD series of the same title. These resources are our way to thank you for your gift today.