The one thing we can never get enough of is love. And the one thing we never give enough of is love. – Henry Miller
So we have the one thing – the key – to the Christian life: Faith expressing itself through love.
Now, what does it mean?
The word faith means trusting. Trusting in the finished work of Christ. Trusting that the cross was enough. Trusting Jesus is who He says He is and then depending on Him.
The phrase expressing itself literally means working. Watch how the same Greek word is used in Ephesians 3:20, "Now to him who is able to do immeasurably more than all we ask or imagine, according to his power that is at work within us…" (emphasis mine).
The Greek word is energeo. You can see what English word comes from that. So the next time you are lacking some energeo, leave the coffee on the counter and grab some Holy Spirit. I hear He's a real pick-me-up.
In all seriousness, let's put it all together: The Spirit is at work in us. As we trust in Him, He brings about active love – love that is full of life and full of energy. This active love is the dance. It's the end of marching – of performing and trying to please. It's the beginning of a life defined by freedom and rooted in love.
Faith expressing itself through love…
If Paul wanted you to take notes, he might say something like, "Trust Jesus and let love happen."
Trust Jesus and let love happen.
Can you imagine what our churches – all 325,000 North American churches – would be like if we all figured out how to trust Jesus and let love happen? What about our marriages? Or our friendships? Or our fear of the future?
Trust Jesus and let love happen. It's that one step that makes the Christian life a dance.
Jesus, work in me, work through me. I can hardly contain the excitement I feel knowing that Your active love is an endless supply. That I can trust You and let love happen to the end of my days. Incredible! Amen.
Listen to Pete, Jill & Stuart Briscoe on the Telling the Truth broadcast at OnePlace.com
SPECIAL OFFER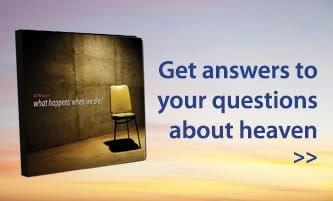 Jill Briscoe's What Happens When We Die? CD Series
Most people have a vague notion of heaven and hell, and many people assume they're going to heaven simply because they're "good people." But what does God's Word say about heaven? And how can you be certain you'll go there? Jill Briscoe answers these questions and more in this insightful series – so be sure to request your copy today!