December 18
Guard Your Heart
Time for a little personal inventory. What is your passion? What are you chasing? What are you thinking about just before you fall asleep? What is your most valuable possession? What would you dread most to lose? What do you have the burn for?
You probably have quite a bit of sales resistance. You need to or you would go crazy in our materialistic and marketing-mad world. You know not to believe the pitch for every product and service that comes at you.
Realize that Satan is going to look for any opening or crack in your armor to push or pull you away from Christ. Use your sales resistance on Satan. "Above all else, guard your heart, for it is the wellspring of life" (Proverbs 4:23). Learn to distinguish his tempting voice. See his promises as lies; see his threats as empty; see his pleasures as what they really are—bribes to induce you to commit spiritual suicide.
Guard your heart by filling it with the gospel. Claim and celebrate and prize God's unconditional love. Think often of Christ's full and free forgiveness of your sins. Fuel up with the Spirit's fire. When the wellspring of your heart is healthy, all your relationships and possessions will be in the right place. More God, less Satan.
---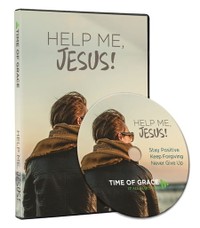 Help Meet the Challenge Grant!
A group of generous friends has stepped forward with a $350,000 Challenge Grant. This means any gift you give to Time of Grace this month will be worth twice as much to share the timeless truths of God's Word with others!
This three-part DVD focuses on looking to God when you're struggling with issues like forgiving others and persevering through trials. And the prayer book helps you put your struggles and concerns into words—and turn them into prayers to God.
The Help Me, Jesus! set is our thank-you for your donation to help us continue telling others of the forgiveness they have through Jesus. Request your copy today!
For more from Time of Grace visit them at TimeofGrace.org or visit their OnePlace.com and LightSource.com pages!