December 22
Light Show
Have you ever seen the aurora borealis (or aurora australis in the Southern Hemisphere)? Sometimes called the "Northern Lights," they are a spectacular light show that tends to occur around the time of the equinoxes. Highly charged particles blown around in space by solar winds are occasionally strongly attracted to the earth's magnetic pole (near to but not identical with the North Pole). The collisions between these particles and the oxygen and nitrogen atoms of the upper atmosphere cause the atoms to be "excited," and they emit energy in the form of greenish light as they calm down. Paler than the sun, they show up best at night, ghostly streaks and swirls of mysterious phosphorescence.
An even greater light show took place on Christmas Eve. It pleased God to announce the arrival of his Son on earth. But that announcement was made not to priests or princes, but to some shocked shepherds working yet another dreary third shift. Suddenly heaven opened above their dropped jaws and a multitude of the heavenly host was diverted from other duties that night to utter praise and glory in the highest.
The very best light show comes from the smile on the Baby's face in the manger. He is smiling because he likes you and has come to rescue you. "I am the light of the world. Whoever follows me will never walk in darkness, but will have the light of life" (John 8:12).
---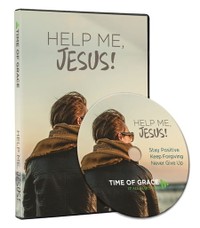 Help Meet the Challenge Grant!
A group of generous friends has stepped forward with a $350,000 Challenge Grant. This means any gift you give to Time of Grace this month will be worth twice as much to share the timeless truths of God's Word with others!
This three-part DVD focuses on looking to God when you're struggling with issues like forgiving others and persevering through trials. And the prayer book helps you put your struggles and concerns into words—and turn them into prayers to God.
The Help Me, Jesus! set is our thank-you for your donation to help us continue telling others of the forgiveness they have through Jesus. Request your copy today!
For more from Time of Grace visit them at TimeofGrace.org or visit their OnePlace.com and LightSource.com pages!