December 23
School of Hardship
We love hero stories. We love sports and romance and war stories of talent and leadership and brilliance and beauty and charm. What are not so compelling are the stories of the training and hardship and early failures that went before.
Moses is one of God's greatest champions—leader of the exodus from Egyptian slavery, receiver of the Old Covenant on Mt. Sinai, author of five Bible books. But all that came from the last third of his life. The middle third consisted of four decades of working as a shepherd boy for a bedouin in the Sinai Desert. But God knew that he would never have grown into a great leader if he had not first attended the school of hardship.
Moses grew up a pampered prince in the royal Egyptian court. He could have averted his eyes from the cruelty of Egyptian enslavement of the Israelites. He could have enjoyed an easy life and stayed in the palace. Instead, "by faith Moses, when he had grown up, refused to be known as the son of Pharaoh's daughter. He chose to be mistreated along with the people of God rather than to enjoy the pleasures of sin for a short time. He regarded disgrace for the sake of Christ as of greater value than the treasures of Egypt, because he was looking ahead to his reward" (Hebrews 11:24-26).
Don't be afraid of God's school of hardship. He may have a special mission planned for you.
---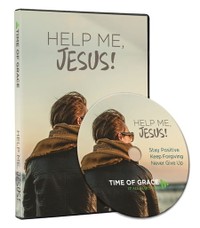 Help Meet the Challenge Grant!
A group of generous friends has stepped forward with a $350,000 Challenge Grant. This means any gift you give to Time of Grace this month will be worth twice as much to share the timeless truths of God's Word with others!
This three-part DVD focuses on looking to God when you're struggling with issues like forgiving others and persevering through trials. And the prayer book helps you put your struggles and concerns into words—and turn them into prayers to God.
The Help Me, Jesus! set is our thank-you for your donation to help us continue telling others of the forgiveness they have through Jesus. Request your copy today!
For more from Time of Grace visit them at TimeofGrace.org or visit their OnePlace.com and LightSource.com pages!