December 24
Christmas Eve
God's Perfect Timing
"O little town of Bethlehem, how still we see thee lie!
Above thy deep and dreamless sleep the silent stars go by.
Yet in thy dark streets shineth the everlasting light.
The hopes and fears of all the years are met in thee tonight."
God did some amazing things in that particular little place on the face of the earth. What happened in that Bethlehem stable was nothing less than the personal arrival of the One who will keep you and me out of hell. For millennia men and women had lived and died, waiting and hoping that this day would come.
God had told his people about what would happen in little Bethlehem centuries earlier through the prophet Micah: "But you, Bethlehem Ephrathah, though you are small among the clans of Judah, out of you will come for me one who will be ruler over Israel, whose origins are from of old, from ancient times" (Micah 5:2).
Isn't it just like God to do his world-changing work in a little town, in the middle of the night, in an animal shelter? May the light streaming from the stable touch your face this Christmas and make you smile.
---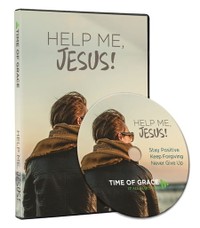 Help Meet the Challenge Grant!
A group of generous friends has stepped forward with a $350,000 Challenge Grant. This means any gift you give to Time of Grace this month will be worth twice as much to share the timeless truths of God's Word with others!
This three-part DVD focuses on looking to God when you're struggling with issues like forgiving others and persevering through trials. And the prayer book helps you put your struggles and concerns into words—and turn them into prayers to God.
The Help Me, Jesus! set is our thank-you for your donation to help us continue telling others of the forgiveness they have through Jesus. Request your copy today!
For more from Time of Grace visit them at TimeofGrace.org or visit their OnePlace.com and LightSource.com pages!