In Touch Daily Devotional 
by Dr. Charles Stanley
---
December 12, 2006
God's Plan for Christ's Coming
Galatians chapter four, verse four tells us, "But when the fullness of the time came, God sent forth His Son." With those simple words, the apostle Paul sums up much of the Old Testament. The fullness of time refers to all of God's preparations for sending Jesus Christ into the world to die for our sins. The Father's hand was organizing world events to bring about the most powerful incident ever. The story of Christ's coming is the story of human history.
Pleased by Noah's faithfulness, God saved his family from the worldwide flood. That preserved the Messianic line through Shem. (Genesis 7:13; Luke 3:23-38) Later, after the Israelites made it to the Promised Land, they ended up losing it. Eventually the Persian king Cyrus defeated their Babylonian captors and allowed the Jewish people to rebuild Jerusalem.
With Alexander the Great's conquest of the known world, the Greek language spread, giving people a common tongue. More time passed, and the Roman conquests ushered in a new era of peace. Traveling became easier as good roads were built, and the seas were safe to sail.
Then, when the time was right, Jesus Christ was born. He would be crucified and resurrected in the rebuilt city. His Gospel could be shared in a common language and carried to faraway countries.
Now, many centuries later, you are able to learn about a heavenly Father who loves you so much that He sent His precious Son to redeem you from your sins. God guided human history so you could be saved!
FEATURED RESOURCE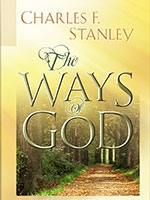 The Ways of God
from Dr. Charles Stanley
God's ways are always perfect, and following them leads to fulfillment and success. One of life's undeniable truths is that your choices will ultimately determine your future. While you can decide for yourself what career field to enter or who to marry, nothing compares with seeking God first and relying on the wonderful principles of His Word. In this series, Dr. Stanley teaches that as you serve God and seek His ways, you'll be blessed with peace, wisdom, and guidance for the journey ahead. Order here  now!
To see more resources from In Touch Ministries, please visit us at www.intouch.org  or go directly to our bookstore at In Touch Ministries.