In Touch Daily Devotional 
by Dr. Charles Stanley
---
December 15, 2006
The Reason for Christ's Coming
Ask a churchgoer why Jesus came, and you will probably hear something based on Luke 19:10: "To seek and to save that which was lost." That's true. Jesus came like a shepherd to draw lost sheep into the fold. He renewed the relationship between God and believer. But Jesus says His time on earth was meant to do even more: He came to reveal the true nature of the Father to mankind.
We need to understand that revelation is progressive. Back in the Garden of Eden, knowledge of the Lord was like a little trickle. Later, Moses explained the Law so the Israelites would know what was expected of them. The trickle became a stream. When the prophets revealed more about God, the stream widened into a river. Then came Jesus, the very embodiment of His Father. It was as if a dam broke on the sea of knowledge. Now, people were able to drink in full understanding of the Father.
The New Testament is dedicated to teaching us about Jesus because He is our revelation of God. We do ourselves a terrible disservice when we neglect Bible reading. God's character is recorded for us so we can build a relationship with Him based on mutual love and commitment. Neither of those can grow without knowledge.
  Modern saints are blessed with access to the Bible in its entirety. Using the knowledge we glean from its pages, we should honor our Lord. We do this in two ways. First, by growing in our faith. And second, by obeying His command to seek the lost. That way, we can share about Jesus, who is the only way to know the heavenly Father. (John 14:6)
FEATURED RESOURCE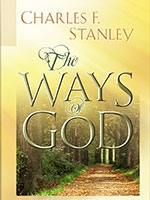 The Ways of God
from Dr. Charles Stanley
God's ways are always perfect, and following them leads to fulfillment and success. One of life's undeniable truths is that your choices will ultimately determine your future. While you can decide for yourself what career field to enter or who to marry, nothing compares with seeking God first and relying on the wonderful principles of His Word. In this series, Dr. Stanley teaches that as you serve God and seek His ways, you'll be blessed with peace, wisdom, and guidance for the journey ahead. Order here  now!
To see more resources from In Touch Ministries, please visit us at www.intouch.org  or go directly to our bookstore at In Touch Ministries.