In Touch Daily Devotional 
by Dr. Charles Stanley
---
December 25, 2006
Meditating on the Christ Child
Merry Christmas! Today is most likely a busy day for you. There are meals to cook, guests to welcome, places to go, people to see, gifts to unwrap, and possibly, even a few gifts to be wrapped! This holy day can certainly be hectic for all of us.
Maybe your Christmas is just getting started. Or perhaps, the holiday is drawing to a close. Whatever the case, this is a moment of meditation in the midst of one of the busiest days of the year. So, In Touch wants to give you one word of counsel: slow down. For the next few moments, let the responsibilities and concerns of today slide off your shoulders. Allow the demands of family and friends to disappear. Focus your thoughts on that baby in the manger. Slow down, and think about... Jesus.
One of the most powerful, yet overlooked, verses in the Christmas story may be Luke 2:19. Just picture it: the newborn Christ crying in the night, a new father frantically trying to provide a comfortable shelter in the unusual setting, animals rustling around, strangers interrupting an intimate moment.
Without a doubt, the first Christmas was hectic, too. And yet, there was Mary, calmly taking it all in. She knew every aspect of this night was important. Yet, her total focus was on the child in her arms. She did not simply notice what was happening; she "treasured all these things and pondering them in her heart." She breathed in the full experience and held it in her spirit. As you celebrate today, take the time to truly experience the wonder of Christmas, and ponder it in your heart as well.
FEATURED RESOURCE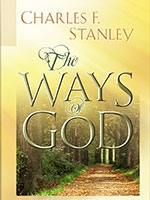 The Ways of God
from Dr. Charles Stanley
God's ways are always perfect, and following them leads to fulfillment and success. One of life's undeniable truths is that your choices will ultimately determine your future. While you can decide for yourself what career field to enter or who to marry, nothing compares with seeking God first and relying on the wonderful principles of His Word. In this series, Dr. Stanley teaches that as you serve God and seek His ways, you'll be blessed with peace, wisdom, and guidance for the journey ahead. Order here  now!
To see more resources from In Touch Ministries, please visit us at www.intouch.org  or go directly to our bookstore at In Touch Ministries.