February 24
Confronting Closed Doors 
Acts 16:5-10
Facing a "closed door" can be extremely frustrating. The apostle Paul knew exactly how that felt. On his second missionary journey to share the gospel in Asia, he repeatedly found the way blocked by the Holy Spirit. Eventually the apostle was stuck in Troas with the sea before him and closed doors behind.
How strange it must have seemed to Paul that God would prevent him from spreading the gospel. But he knew this wisdom from the book of Proverbs: The Lord will make a straight path for anyone who chooses to trust God rather than himself (vv. 3:5-6). Instead of getting angry or trying to force his way into new territory, Paul got on his knees.
The Bible does not record how long he and Timothy lingered in Troas, but we can be sure that the apostle did not move until the Lord revealed the entrance to a new mission field. Christians in a period of watchful waiting should view the situation as a chance to seek not only God's purpose but also His guidance. This is the time to ask the Lord why He has barred the way forward—perhaps the timing is wrong or we need to deal with unconfessed sin. Whatever the reason, we must be sensitive to the Spirit's leading. We want to be ready for the door that will open.
When an opportunity is blocked, God has a reason. And He is providing love and protection, even in your disappointment. The Lord is also keeping His promise to work everything for your good (Rom. 8:28). When one door has closed, a greater one is about to open. Be wise and watch for it.
For more biblical teaching and resources from Dr. Charles Stanley, please visit www.intouch.org.
Click here to watch Dr. Charles Stanley & In Touch Ministries Video Online
and
click here to listen to Dr. Stanley at OnePlace.com.
FEATURED RESOURCE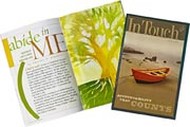 In Touch Magazine
Stories that Inspire, Teaching that Renews
If you like Dr. Charles Stanley's radio program, TV broadcast and books, then you'll love his free, award-winning monthly magazine. It's full of informative resources that will touch your heart and invigorate your faith. Every month, In Touch magazine brings readers daily devotionals from Dr. Stanley, in-depth Bible studies, inspiring articles and insightful teaching to help strengthen your family and your relationship with God. Click below to start your free subscription to In Touch magazine. 

Used with permission from In Touch Ministries, Inc. © 2009 All Rights Reserved.