In Touch Daily Devotional 
by Dr. Charles Stanley
---
Tuesday, February 6, 2007
The Empowering Emotion of Joy
John 15:9-17 
Jesus promised us His joy. However, such gladness evades most Christians.
There are certain important points to understand about joy. This gift to every believer in Christ has a spiritual source — the Holy Spirit — and is produced from within by Him. Being supernatural in nature, divine joy exists independently of our circumstances. Happiness, on the other hand, comes from external causes, is earthly in character, and increases or decreases as events change. The success of a sports team, recognition by others, or completion of a project all represent sources of earthly happiness.
Holy Spirit-developed joy comes when we:
• Focus on our relationship with the Lord.
Because of Jesus, our sins are forgiven, our names are written in the Lamb's Book of Life, and we are forever His. Nothing can separate us from Him in this life or in eternity.
• Observe His transforming work in others.
Notice and draw pleasure from what God is doing: rescuing people from bondage to sin and transforming them into His likeness.
• Serve those He sends to us. Our obedient, loving care for others brings spiritual joy.
• Meditate on God's living Word. Through Scripture, we receive an outpouring of His love and precious truths on which to build our lives.
The Holy Spirit desires to produce gladness within you. Take a few minutes to ponder the wonder of your new birth, share someone's spiritual joy, obediently serve someone else, or receive guidance from His Word. Then check your emotional barometer. Are you singing hallelujah yet?
FEATURED RESOURCE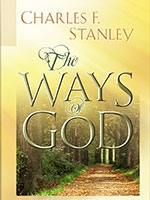 The Ways of God
from Dr. Charles Stanley
God's ways are always perfect, and following them leads to fulfillment and success. One of life's undeniable truths is that your choices will ultimately determine your future. While you can decide for yourself what career field to enter or who to marry, nothing compares with seeking God first and relying on the wonderful principles of His Word. In this series, Dr. Stanley teaches that as you serve God and seek His ways, you'll be blessed with peace, wisdom, and guidance for the journey ahead. Order here  now!
To see more resources from In Touch Ministries, please visit us at www.intouch.org  or go directly to our bookstore at In Touch Ministries.