In Touch Daily Devotional 
by Dr. Charles Stanley
---
January 14, 2007
Obeying God: The Learning Process
Often when the word temptation is mentioned, we immediately think of sexual temptation. But temptation is a broad subject.
    
It has to do with the deeds of the flesh and is most often associated with self-will and self-desires. A cruel, short response to someone's question can do temptation's bidding. Gossip, anger, or yielding to feelings of unworthiness all lead along temptation's pathway.
    
Anything that separates us from God–habits, desires, feelings–is evidence of the tempter's handiwork. Each of us is vulnerable, but no one has to yield to temptation. Believers have God's Spirit living within them–a force that is much more powerful than any attack from the tempter's hands. Therefore, you do not have to yield to temptation. You have a choice. You can say no!
    
Temptation is an opportunity for obedience. And obedience always leads to blessing. Pray that you would be made sensitive to God's Spirit whenever you feel the attack of the enemy threatening. Realize there is a learning process involved in obedience.
    
Times of spiritual failure are not wasted when we ask God to teach us how to be strong in our faith. This is how we grow and learn to avoid future temptation.
FEATURED RESOURCE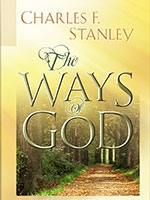 The Ways of God
from Dr. Charles Stanley
God's ways are always perfect, and following them leads to fulfillment and success. One of life's undeniable truths is that your choices will ultimately determine your future. While you can decide for yourself what career field to enter or who to marry, nothing compares with seeking God first and relying on the wonderful principles of His Word. In this series, Dr. Stanley teaches that as you serve God and seek His ways, you'll be blessed with peace, wisdom, and guidance for the journey ahead. Order here  now!
To see more resources from In Touch Ministries, please visit us at www.intouch.org  or go directly to our bookstore at In Touch Ministries.