January 22
Facing Death Unprepared 
Luke 23:32-43
God's grace is revealed in His willingness to welcome anyone at anytime into His kingdom, even at the moment of death. The repentant thief who hung on a cross next to Jesus had absolutely nothing to offer the Lord—no good works, no faithful service. He couldn't even be baptized. In his utterly helpless condition, the only thing he could do was believe. But that was all it took, because faith is the only way to be saved.
Although both thieves began their crucifixion by hurling verbal abuse at Jesus (Matt. 27:44), as the torturous minutes passed, one of them had a change of heart. His railing against the Savior turned to rebuke of the other criminal, and then to defense of Jesus, admission of his own guilt, and a plea for a place in Christ's kingdom (Luke 23:40-42).
What was it that turned this mocker into a believer? Even if he himself had little prior knowledge of Jesus, the crowd's taunts supplied him with the information he needed to be saved. Scornful onlookers accused Jesus of being exactly who He was: the King of Israel, the Savior of others, and the Son of God (Matt. 27:42-43). As the condemned man watched and listened, he turned in faith to the only One who could save Him: the One dying for him.
On the hill that day, one man died in his sin, one Man died for sin, and the other was saved out of his sin. There are only two responses to the inevitability of death. We can either accept or reject Christ's substitutionary payment for our sin. How will you respond?
For more biblical teaching and resources from Dr. Charles Stanley, please visit www.intouch.org.
Click here to watch Dr. Charles Stanley & In Touch Ministries Video Online
and
click here to listen to Dr. Stanley at OnePlace.com.
FEATURED RESOURCE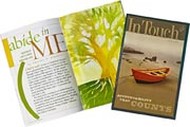 In Touch Magazine
Stories that Inspire, Teaching that Renews
If you like Dr. Charles Stanley's radio program, TV broadcast and books, then you'll love his free, award-winning monthly magazine. It's full of informative resources that will touch your heart and invigorate your faith. Every month, In Touch magazine brings readers daily devotionals from Dr. Stanley, in-depth Bible studies, inspiring articles and insightful teaching to help strengthen your family and your relationship with God. Click below to start your free subscription to In Touch magazine. 

Used with permission from In Touch Ministries, Inc. © 2009 All Rights Reserved.