January 27
Crying Out to God 
2 Chronicles 20
When God's people humbly call upon His name, He releases awesome power. The Bible is packed with stories of His mighty intervention on behalf of those who cry out to Him.
Take Jehoshaphat, for instance. Today's passage tells of the king's faithfulness and reliance upon the Lord in a time of adversity: he received word that the Moabites, Ammonites, and Meunites were joining forces to wage war against his kingdom.
Jehoshaphat admitted his fear but quickly reminded himself of God's faithfulness to other believers in the past (v. 7). Confessing total dependence on the Lord, he gathered all of the Israelites to cry out to their Father. Through the prophet Jahaziel, God reminded them this was His battle, so they were not to fear (vv. 14-15). The people praised the Lord for His encouragement. And, amazingly, when they "came to the lookout of the wilderness, they looked toward the multitude, and . . . no one had escaped" (v. 24). All their enemies lay dead.
God worked in a more miraculous way than anyone could imagine—and He still exceeds our expectations today. Through such means as prayer, praise, song, and fasting, we can ask Him to reveal Himself. He is ready to respond when we bring heavy hearts and deep concerns to Him.
Crying out to God and asking Him to work in our lives requires humility and persistence. Though we are unable to succeed on our own, we frequently try. By allowing us to bring our concerns and desires before Him, Jesus lovingly helps us realize our dependence.
For more biblical teaching and resources from Dr. Charles Stanley, please visit www.intouch.org.
Click here to watch Dr. Charles Stanley & In Touch Ministries Video Online
and
click here to listen to Dr. Stanley at OnePlace.com.
FEATURED RESOURCE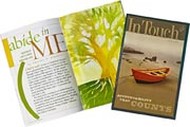 In Touch Magazine
Stories that Inspire, Teaching that Renews
If you like Dr. Charles Stanley's radio program, TV broadcast and books, then you'll love his free, award-winning monthly magazine. It's full of informative resources that will touch your heart and invigorate your faith. Every month, In Touch magazine brings readers daily devotionals from Dr. Stanley, in-depth Bible studies, inspiring articles and insightful teaching to help strengthen your family and your relationship with God. Click below to start your free subscription to In Touch magazine. 

Used with permission from In Touch Ministries, Inc. © 2009 All Rights Reserved.