January 29
Look to Jesus and Live 
John 3:7-15
Jesus' conversation with Nicodemus was packed with symbolism. He compared salvation to a second birth and likened the Holy Spirit's work to the wind. But then the Lord used an Old Testament illustration that might seem odd to modern readers—He said the Son of Man must be lifted up, just as Moses lifted the bronze serpent (Num. 21:1-9).
Nicodemus would have been familiar with the story: En route to the Promised Land, the Israelites once complained about going the long way around enemy territory. God responded by sending poisonous snakes into their midst. A bite victim would die unless he or she looked at the bronze serpent hanging from a pole in the camp. The statue was a symbolic representation of God's presence among the Israelites as well as a reminder that He was their deliverer.
While we might not mix spiritual birth and a snake on a pole in one testimony, Jesus did so for a good reason. These metaphors describe related events. The Messiah was explaining that He must be lifted onto the cross as a sacrifice for all of mankind's wrongs. A new birth is impossible unless somebody pays the price for our sinful condition. Those who look to Jesus and believe will be forgiven, saved, and born again.
Jesus' message to Nicodemus becomes clear when we understand how the pieces fit together. The Savior is saying that He must die on the cross so that sinful human beings can be born again. Have you looked to Jesus Christ for salvation? He is the only way to new life.
For more biblical teaching and resources from Dr. Charles Stanley, please visit www.intouch.org.
Click here to watch Dr. Charles Stanley & In Touch Ministries Video Online
and
click here to listen to Dr. Stanley at OnePlace.com.
FEATURED RESOURCE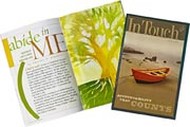 In Touch Magazine
Stories that Inspire, Teaching that Renews
If you like Dr. Charles Stanley's radio program, TV broadcast and books, then you'll love his free, award-winning monthly magazine. It's full of informative resources that will touch your heart and invigorate your faith. Every month, In Touch magazine brings readers daily devotionals from Dr. Stanley, in-depth Bible studies, inspiring articles and insightful teaching to help strengthen your family and your relationship with God. Click below to start your free subscription to In Touch magazine. 

Used with permission from In Touch Ministries, Inc. © 2009 All Rights Reserved.