June 17 
God's Love Comforts Us 
Romans 8:38-39 
Our heavenly Father wants us to know how much He loves and cares for us. He has made this clear through . . .
• Revelation of Himself. In Scripture, we learn that the Creator made us in His image and has a purpose for our lives. We also discover that sin has separated us from the Lord, but He has a solution to our problem. 
• Provision of a Savior. We were trapped by our sinful nature and unable to free ourselves. That left us helpless and lost, like sheep without a shepherd (Matt. 9:36). Worse still, we were under a sentence of eternal death—separation from the Lord forever. Because of our Father's great love for mankind, He sent His only Son to bear the penalty we deserved (Rom. 6:23) and to give us eternal life. Jesus rescued us from slavery to sin and reconciled us to the Father. What we could never do for ourselves, He did for us. His provision is free to us but costly to Him. 
• Adoption of believers. When we place our trust in Jesus Christ as our Savior, we become children of God. The separation between Him and us is gone; instead of enemies, we are family. His indwelling Holy Spirit serves as both evidence that we belong to God and assurance of His unending love. 
The Father's care for us shines brightly through the cross—it was because of love that He sent Jesus to earth to die in our place (1 John 4:9-10). Once we accept the gift of salvation through Christ, nothing can separate us from God's love. What a comfort that is in times of need. 
For more biblical teaching and resources from Dr. Charles Stanley, please visit www.intouch.org.
Watch Online Videos of Dr. Charles Stanley and In Touch Ministries at LightSource.com
and
Listen to Dr. Charles Stanley Online Broadcasts at OnePlace.com.
FEATURED RESOURCE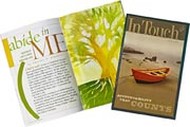 In Touch Magazine
Stories that Inspire, Teaching that Renews
If you like Dr. Charles Stanley's radio program, TV broadcast and books, then you'll love his free, award-winning monthly magazine. It's full of informative resources that will touch your heart and invigorate your faith. Every month, In Touch magazine brings readers daily devotionals from Dr. Stanley, in-depth Bible studies, inspiring articles and insightful teaching to help strengthen your family and your relationship with God. Click below to start your free subscription to In Touch magazine. 

Used with permission from In Touch Ministries, Inc. © 2009 All Rights Reserved.