In Touch Daily Devotional
by Dr. Charles Stanley
---
May 2, 2007 – What Every Mother Needs – Exodus 20:1-12 
            Welcome to the In Touch Devotional. 
            God tells us to honor our mother. And He does not set any limits to His command. Because she's our mom, we are to treat her with respect and love. 
            Mothers don't always live up to our expectations. Sometimes, they experience hardships and challenges that affect their ability to offer what we need or want. Or, they might have a personal weakness that negatively impacts us or our families. But we're to follow the example of our heavenly Father, who loved us even though we didn't have any qualities that deserved His favor. Romans 5:10 says He chose us to belong to Him through His Son Jesus, even while we were still His enemies. 
            God loved us when we were unlovable. We can express our gratitude to Him by giving unconditional love to our mother. With the Holy Spirit's help, we can choose to do so genuinely and consistently. 
            To love the significant women in our lives without any strings attached is an important part of showing them honor. No mother or wife should have to wonder if she's living up to what loved ones hope and expect from her. After a while, she'll feel trapped by the burden of unmet expectations, rather than accepted by those closest to her. 
            Mothers have the same needs as all women: to be loved, listened to, and cared about. Take time to show the important women in your life how much you care for them. Be a willing, attentive listener, and demonstrate your love to them in meaningful ways.
FEATURED RESOURCE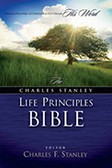 The Life Principles Bible
This Bible combines the wisdom of Scripture with the principles that guide Dr. Stanley's life and empower his ministry. Order your copy.
To see more resources from In Touch Ministries, please visit us at www.intouch.org or go directly to our bookstore at In Touch Ministries.