May 24 
How to Have a Daniel-like Faith 
Hebrews 11
The apostle James challenges us to understand the connection between faith and obedience. In James 2:17, he writes that faith without works is dead. In other words, we cannot have unshakable beliefs without obeying.
Developing steadfast trust takes time. We are born spiritually through simple, childlike faith that receives Jesus as Savior. Convictions are nourished by a growing knowledge of God and a deepening confidence in Him. Experiencing His protection, provision, and power in moments of testing strengthens our beliefs. Each time Daniel's loyalty was tested, he chose to depend on God. Sometimes the circumstances were thrust upon him—such as whether to eat food sacrificed to idols. At other times, he voluntarily initiated a difficult situation in order to help (Dan. 2:24). In each case, he followed God's leading.
Hebrews 11 shows that obedience is critical to steadfast faith. Noah, when warned about things not seen, obeyed God and built the ark. At the Lord's direction, Abraham left home to go to a place not yet known to him. The apostle Paul was planning to arrest Christians when he encountered the Savior. He did a complete turnaround—despite threats, beatings, and shipwrecks, he obeyed the Lord and preached the gospel.
Knowing and trusting God through His Son, experiencing His presence, and living obediently are the elements needed to develop an unshakable faith. Jesus Himself said that our work is to believe in Him (John 6:29). With the Holy Spirit's help and our cooperation, each of us can have a Daniel-like faith.
For more biblical teaching and resources from Dr. Charles Stanley, please visit www.intouch.org.
Watch Online Videos of Dr. Charles Stanley and In Touch Ministries at LightSource.com
and
Listen to Dr. Charles Stanley Online Broadcasts at OnePlace.com.
FEATURED RESOURCE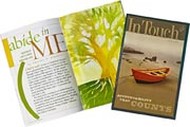 In Touch Magazine
Stories that Inspire, Teaching that Renews
If you like Dr. Charles Stanley's radio program, TV broadcast and books, then you'll love his free, award-winning monthly magazine. It's full of informative resources that will touch your heart and invigorate your faith. Every month, In Touch magazine brings readers daily devotionals from Dr. Stanley, in-depth Bible studies, inspiring articles and insightful teaching to help strengthen your family and your relationship with God. Click below to start your free subscription to In Touch magazine. 

Used with permission from In Touch Ministries, Inc. © 2009 All Rights Reserved.