May 8-9
A Praying Mom 
1 Samuel 2
Hannah experienced great sorrow prior to the birth of her son Samuel. Through that difficult time, however, she demonstrated a strong love for God and a dependence on Him through prayer.
Samuel had a mother who loved the Lord deeply. In fact, Hannah saw herself as God's handmaiden, whose life was in service to Him (1 Sam. 1:11). Even when her misery was overwhelming, she acknowledged how important He was to her, and she modeled a godly lifestyle.
We are commanded to love the Lord with our whole heart, soul, mind, and strength (Mark 12:30) and to give Him first place in our lives (Deut. 5:7). If we love God, we will make sure our children know about Him and understand the importance of a relationship with Him through Christ. Our lives, though flawed, will reveal the transforming power of the Holy Spirit.
Samuel was blessed because Hannah was a woman of prayer. Her first recorded petition stemmed from misery, while the second came from a heart rejoicing over the Lord's answer to her cries. A praying mother gives high priority to bringing family concerns before God. I remember my mom kneeling with me by my bed to pray. I can still recall the phrases she used and the things she talked over with Him.
Children need committed parents who 1) demonstrate love toward both the family and God, and 2) help them experience the power and joy of prayer (James 5:16 niv). Even one parent can make a powerful difference when Christ is the center of the home. I know my mom did.
For more biblical teaching and resources from Dr. Charles Stanley, please visit www.intouch.org.
Click here to watch Dr. Charles Stanley & In Touch Ministries Video Online
and
click here to listen to Dr. Stanley at OnePlace.com.
FEATURED RESOURCE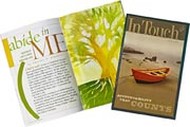 In Touch Magazine
Stories that Inspire, Teaching that Renews
If you like Dr. Charles Stanley's radio program, TV broadcast and books, then you'll love his free, award-winning monthly magazine. It's full of informative resources that will touch your heart and invigorate your faith. Every month, In Touch magazine brings readers daily devotionals from Dr. Stanley, in-depth Bible studies, inspiring articles and insightful teaching to help strengthen your family and your relationship with God. Click below to start your free subscription to In Touch magazine. 

Used with permission from In Touch Ministries, Inc. © 2009 All Rights Reserved.