In Touch Daily Devotional 
by Dr. Charles Stanley
---
October 23, 2006 The Cross Matthew 27
            The cross—the universal symbol of Christianity—has great meaning to God. First of all, through Jesus' death, the Father proclaimed the value of every single human being. He gave His only Son that "whoever believes in Him shall not perish, but have eternal life" (John ). Second, it meant a great cost. Holy God separated Himself from His beloved Son while Jesus bore the weight of mankind's sin. (Matthew 27:46) Third,the redemption of man was accomplished. Jesus' shed blood purchased us from slavery to sin and reconciled us to God. (1 Peter 1:18-19) Finally, divine justice was carried out on the cross.
            God declared that death is the debt owed for sin. (Ezekiel 18:20) However, God requires an unblemished sacrifice (Deuteronomy 17:1). We could not adequately pay our own penalty because we would only die in our sin. For holy God to forgive us, a sufficient substitute had to be found—one who qualified to pay for our disobedience. Jesus, the only one who was without sin, willingly took our place and assumed responsibility for our debt. All our iniquity—past, present, and future—was placed on Christ, and God's judgment upon us was carried out against Him.
            The meaning of the cross was experienced firsthand by Barabbas, the notorious prisoner who was condemned to die. God's innocent Son was substituted for him, giving the criminal freedom. Like Barabbas, we've had our death sentence commuted, and, though unworthy, we have been set free in Jesus. Today, the cross continues to offer life and freedom to the undeserving.
 
FEATURED RESOURCE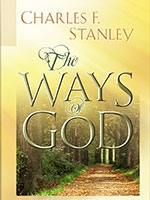 The Ways of God
from Dr. Charles Stanley
God's ways are always perfect, and following them leads to fulfillment and success. One of life's undeniable truths is that your choices will ultimately determine your future. While you can decide for yourself what career field to enter or who to marry, nothing compares with seeking God first and relying on the wonderful principles of His Word. In this series, Dr. Stanley teaches that as you serve God and seek His ways, you'll be blessed with peace, wisdom, and guidance for the journey ahead. Order here  now!
To see more resources from In Touch Ministries, please visit us at www.intouch.org  or go directly to our bookstore at In Touch Ministries.