Sept. 1, 2009
Reprogramming Our Thinking 
We are the product of our thinking, so it is important that we choose carefully where to focus our mental energy. We can cling to our old flesh patterns and consequently find ourselves tripping over impulses and attitudes like bitterness, pride, and discontent. The wise alternative is to reprogram our thinking to match that of Jesus Christ.
Our current thought processes—such as the way we view ourselves and others, and how we approach problems—have been programmed by authority figures, church, friends, and even enemies. We can select some of our mind's influences (e.g., the media) but not all (e.g., our parents). Yet we can choose what input will shape our mind by believing and dwelling on that material.
Reprogramming the mind is a matter of choosing to believe and meditate upon God's truth. When you receive Jesus Christ as Savior, your mind is renewed with a capacity for godly thought. It might not seem different at first. But the longer you live the Christian life and apply biblical principles, the more you'll find old habits and modes of thinking will be choked out. However, anytime you yield to temptation, you allow old thought patterns an opportunity to rise up and dominate first your mind, and then your mouth and hands.
The way to strangle fleshly thoughts and attitudes is to pour Scripture into the mind regularly and frequently (Ps. 119:11). When we allow our thinking to be directed by the thoughts of God—which is what the Bible is made of—we will think, speak, and act according to His will. 
For more biblical teaching and resources from Dr. Charles Stanley, please visit www.intouch.org
and
click here to listen to Dr. Stanley at OnePlace.com.
FEATURED RESOURCE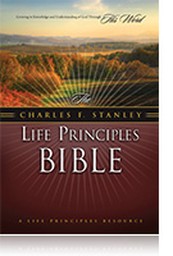 The NASB Life Principles Bible
You can now read the Scriptures in Dr. Stanley's favorite teaching translation -- the New American Standard -- while learning the 30 Life Principles that have guided him for more than 50 years. The new NASB Life Principles Bible will enhance your personal study time through explanation of key passages, plus helpful resources like "Answers to Life's Questions," concordance, maps, and much more. Available in leather and hardcover. 

Used with permission from In Touch Ministries, Inc. © 2009 All Rights Reserved.