Everyone Matters
By: Rick Boxx
June 14, 2013
Amy Sherman, author of "Kingdom Calling," said at a conference that anyone can make a difference in their workplace.
Bob was a new graduate hired by a large accounting firm. This firm was seeking people interested in serving on a charitable giving committee.
Because of his eagerness to serve, and the staff's low interest in the committee, Bob seized the opportunity and was elected chairman of the committee. He began inspiring the firm and advancing community causes.
Due to Bob's leadership, the firm became known for their teamwork and community spirit.
Titus 2:6 teaches, "Urge the young men to be sensible; in all things show yourself to be an example of good deeds."
Serving on a committee that few wanted was a sensible way for Bob to make a difference.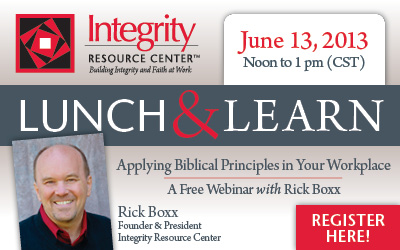 Contact Rick Boxx at www.integritymoments.org, and to learn more about Integrity Resource Center go to integrityresource.org.