August 25
The Descent "How blessed is the man who does not walk in the counsel of the wicked, nor stand in the path of sinners nor sit in the seat of scoffers"
Psalm 1:1
Bondage is never discovered in a night and shackles are not embraced with open eyes. The trek into bondage is always progressive and is never intentional. The spiral downward into the pit of slavery is vicious cycle leaving little or no hope for deliverance. It all begins by taking a walk beloved, just a walk. Step by step with company that does not hold to the same standards to which we are accustomed to or to which we were called or raised up under. The place our foot treads will always lead somewhere; it will always have a final destination. Walking is living like or taking the same course as another. It implies keeping extended company with another, just like taking a long walk. Who are you walking with? Who is influencing you?
Walking with the sinful will eventually come to an end and then before you know it you're now standing where you once were walking. It's no longer something you are passing through; you've now decided to visit for a little while. Your walk is finished but you've decided to linger a bit longer. Sin is subtle; it just wants to take a stroll at first, just a flirt, just a glance, a thought or gesture. What could it hurt right? But sin is never satisfied with momentary visitations; it wants longer, it pulls and beckons you just to rest there for only a spell longer. Sin baits us and beckons until it has trapped us putting us into bondage.
Something tragic happens when we linger; we find that we don't want to leave. The foreign has now become the familiar. And before long we are no longer standing, we are sitting; we have made a new dwelling place with a now close friend. Sitting shows that we are comfortable, we are at ease. When ease is present shackles are adorned. Ease will always lead to bondage. "Don't be deceived brethren, bad company corrupts good morals". (I Corinthians 15:33) Bondage is the final destination of every un-confessed and un-repented sin.
Be careful little feet where you go.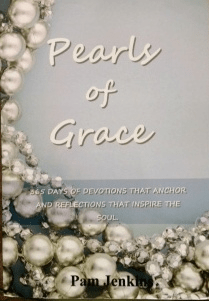 Pearls of Grace Devotional Book
Pearls of Grace is a book of devotions for the entire year, including a read through the Bible in a year calendar, broken down for every day. Beautifully written with encouraging words of hope and empowering words of joy and strength for every woman. Pam draws from the truth and richness of God's Word and gives real life examples in her down to earth style. A must have in your library, click here for more information.          
For more from Pam Jenkins and Jabbok Ministries, please visit www.jabbokministries.com!
Listen to Pam Jenkins's daily broadcast on OnePlace.com.