Week 40
Send Me
Then I heard the voice of the Lord saying, "Whom shall I send? And who will go for us?" And I said, "Here am I. Send me!"  Isaiah 6:8
The song "Here I Am" by Down Here says, "Here I am, somehow my story is a part of your plan."
That's a good reminder that we're called to accomplish something for God—even if we don't know what.
But we can learn, as our life story unfolds. Each season adds experience that can help us help others.
When we step forward to say, "Lord, send me!" we shouldn't look for the easiest or most glamorous opportunities to serve.
We're put where we are for a reason and our call from Christ might be very near at hand: to wipe the nose of a child, to sit up at night helping with homework, or to talk with a lonely, elderly relative. Joyce Meyer says, "It's amazing to me the number of people who will volunteer to help at church but won't lift a finger to help at home!"
Big testimonies—sometimes the biggest—come through the little things, how we handle the simple chores of our lives. We need to live every day, every moment, as a missionary sent by Christ, even if we're only cleaning up the yard.
Sweet Freedom in Action
Today, resolve to live a life of service to those around you, remembering that your life story is part of God's plan.
---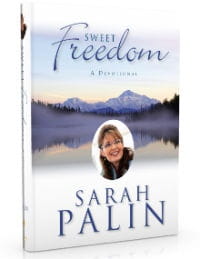 In Sweet Freedom, Sarah Palin invites you to draw strength and inspiration from 260 meditations based on guiding Biblical verses. You are not alone in your doubts and anxieties—we all bear the burdens of everyday stresses, and for most of us, our concerns spread beyond our selves to our families, communities, and country. But Palin shows that with abiding faith, and by opening ourselves to the truths that have saved mankind for generations, we can thrive—and experience true freedom.