Week 42
Take Your Position
Though the fig tree does not bud and there are no grapes on the vines, though the olive crop fails and the fields produce no food, though there are no sheep in the pen and no cattle in the stalls, yet I will rejoice in the Lord, I will be joyful in God my Savior. Habakkuk 3:17-18
When things seem to be going wrong in our lives, how often do we forget to still rejoice in the Lord? 
Quite a lot, I bet.
The prophet Habakkuk reminds us to trust in God, no matter what; to know that there is a divine plan, that things happen for a reason, that even when evil men triumph, it is for a season, and that ultimately justice will be delivered by God.
Habakkuk is no passive observer. He questions God. He seeks answers. He finds them in faithfulness.
Our faith will always be challenged by circumstances, by the ways of the world, but we are called not just to loyalty to God, but to rejoice in His mercy, His grace, His plan, and His gift of our lives. We owe Him everything.
Sweet Freedom in Action
Be like Habakkuk and rejoice in the Lord. God will never abandon us; we should always be faithful to Him.
---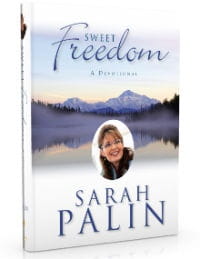 In Sweet Freedom, Sarah Palin invites you to draw strength and inspiration from 260 meditations based on guiding Biblical verses. You are not alone in your doubts and anxieties—we all bear the burdens of everyday stresses, and for most of us, our concerns spread beyond our selves to our families, communities, and country. But Palin shows that with abiding faith, and by opening ourselves to the truths that have saved mankind for generations, we can thrive—and experience true freedom.