LOST Marathon, Milepost 24: We Are Just the Pieces
Lost in Translation, with Shawn McEvoy
Sunday, January 31, 2010
"I'll be on a plane tomorrow." -- Sun, to her mother in Seoul. She's right, but she doesn't realize yet that plane's not going to Korea.
"As far as bringing back the people who left to stop these temporal shifts? That's where we leave science behind." -- Daniel. THANK YOU. This is a dead end story line. One has nothing to do with the other.
"Wherever you are, John, you must be laughing your a-- off that I'm even doing this. Because this is even crazier than you were." -- Jack, to dead Locke, as he puts his father's shoes on him. Locke was right that Jack just didn't know yet that he believes in miracles.
"I'm sorry you LOST your friend." -- Cesar, in line for the Ajira flight, to Jack. I suppose this helps recreate the people at the Sydney counter who heard Jack making casket/burial arrangements as well.
Jack: Did you know that Locke killed himself?
Ben: No. No I didn't. (True!)
Characterization
"I can fix this, Kate, I can fix this," says Jack, wanting to go talk to Carole, who he thinks wants to take Aaron from Kate. He's still trying to do this. He always will - it's part of his personality. But sometimes he has to realize this drive is not going to work, sometimes it's going to make things worse, because he may be fixing something that doesn't need fixing.
It hurt Sawyer badly to be close enough to touch Kate, even to know that if he wanted to, he could have stood up and talked to her. But "what's done is done," he says, sounding very much like Faraday, although he sounds like he's trying to convince himself more than anyone.
Ben is still Ben. When Jack asks if he knew about the Lamp Post, he says no. But Hawking tells Jack Ben's "probably" lying. And when Jack asks what's going to happent to the other people on the flight, Ben says, "Who cares?" And as nasty as that sentiment is, I have to admit, I don't care either - I just want to get on with the story.
When Ben says - to no one there - that "I'll miss you, John. I really will," we can probably believe him.
Opening & Closing
5.4 Open - A boat, at night, the white searchlight on the black water. It's late 2004, it's The Searcher, and Jack is talking with Kate.
5.5 Open - Black Hole Sun in her car at the Marina, intending to shoot Ben, gets a phone call.
5.6 Open - Almost identical to the very first image of the Pilot episode - Jack's single eye opens (this time it's his left, migth have been his right last time), he's on his back in the jungle, looking up at waving bamboo.
5.7 Open - Dark. An uknown figure is looking through dingy windows into an office that looks as if unused for quite some time.
5.4 Close - "Hello, Jin. I'm Danielle. Danielle Rousseau." Close-up on Jin's really befuddled face.
5.5 Close - "I suppose it'll have to do for now. Alright - let's get started." Close-up on Mrs. Hawking grinning and looking creepy.
5.6 Close - Blue Dharma van pulls up to the lagoon. The driver pulls a gun on Hurley, Kate, and Jack, who recognize him. "Jin?!" Jin can't decide whether to look stunned or smile.
5.7 Close - Flocke stares down an an injured sleeping Ben. When Cesar asks if he knows him, "Yeah, he's the man who killed me."
Probably Unimportant, But I've Always Wondered...
Much is made by some LOST bloggers of the line where Jack asks Ben, "How can you read?" (by which he means, "at a time like this."). Ben responds: "My mother taught me." Some people find this cryptic, as Ben's mother died when he was a kid. All this is though, I really believe, is Ben cracking back at Jack with a joke, a play on the word "how." He's just being obnoxious. He also adds that, "I can read because it beats what you're doing - waiting for something to happen."
Sayid speaks Spanish to a co-worker in the Dominican. The subtitles do not show what he says, but I can make out the final two words: "otra vida" which mean "other life." Why would these words be here? They're so similar to Jack and Desmond's, "See you in another life" phrase. Just then Locke shows up, and they are indeed seeing each other in another life.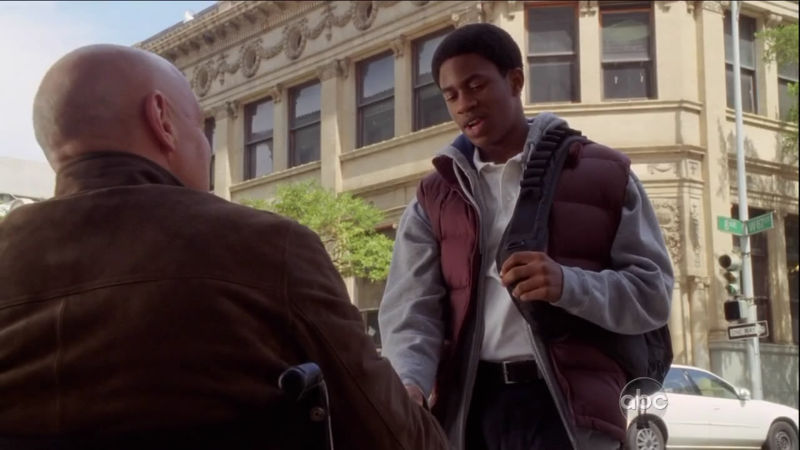 Locke never introduces himself to Walt as Jeremy Bentham. But when Walt visited Hurley, he told him that Bentham had been to see him. Where'd Walt get that name? Is this an error, or did Locke visit Walt a second time (doubtful). Also, is this really and officially the end of the once-promising Walt storyline? If so, it's one of my few but greatest disappointments with LOST.
Have something to say about this article? Leave your comment via Facebook below!
advertise with us
Example: "Gen 1:1" "John 3" "Moses" "trust"
Advanced Search
Listen to Your Favorite Pastors