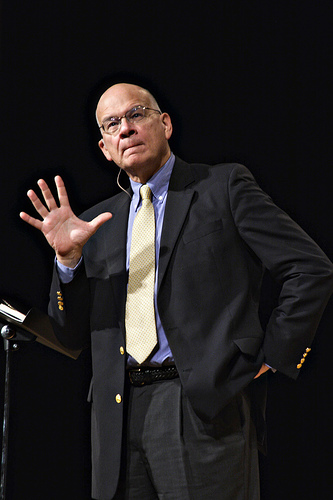 As many of you know, Tim Keller is the pastor of Redeemer Presbyterian Church in NYC (a PCA church that Tim planted in 1989). Tim is a top-notch thinker, an excellent preacher, and a dear friend.
As a preacher, Tim knows how to unveil and unpack the truth of the Gospel from every Biblical text he preaches in such a way that it results in the exposure of both the idols of our culture and the idols of our hearts. His faithful exposition of our true Savior from every passage in the Bible painfully reveals all of the pseudo-saviors that we trust in culturally and personally. Every sermon discloses the subtle ways in which we as individuals and we as a culture depend on lesser things than Jesus to provide the security, acceptance, protection, affection, meaning, and satisfaction that only Christ can supply. In this way, he is constantly showing just how relevant and necessary Jesus is; he's constantly proving that we are great sinners but Christ is a great Savior. His sermons, in other words, rightly sting and sing!
Personally, I am grateful for Tim's friendship. His interest in me as a person and a preacher shows a side to him that many perhaps do not see. I know how busy he is and how many demands he has and yet he has always found time to talk with me, advise me, meet with me, and in a thousand other ways, help me out. So Tim, thanks for all you do and for who you are. Preach on brother—we're all listening!
Christianity Today profiles Tim here. Whether you are familiar with Tim's ministry or not, this article is well worth the read.