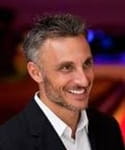 As I've said before, I once assumed (along with the vast majority of professing Christians) that the gospel was simply what non-Christians must believe in order to be saved, while afterward we advance to deeper theological waters. But I've come to realize that "the gospel isn't the first step in a stairway of truths, but more like the hub in a wheel of truth." As Tim Keller explains it, the gospel isn't simply the ABCs of Christianity, but the A-through-Z. The gospel doesn't just ignite the Christian life; it's the fuel that keeps Christians going every day. Once God rescues sinners, his plan isn't to steer them beyond the gospel, but to move them more deeply into it. After all, the only antidote to sin is the gospel—and since Christians remain sinners even after they're converted, the gospel must be the medicine a Christian takes every day. Since we never leave off sinning, we can never leave the gospel.
This idea that the gospel is just as much for Christians as it is for non-Christians may seem like a new idea to many but in fact it is really a very old idea.
In his letter to the Christians of Colossae, the apostle Paul quickly portrays the gospel as the instrument of all continued growth and spiritual progress for believers after conversion: "All over the world," he writes, "this gospel is bearing fruit and growing, just as it has been doing among you since the day you heard it and understood God's grace in all its truth" (Colossians 1:6, NIV).
Martin Luther understood this as well. He often employed the phrase simul justus et peccator to describe his condition as a Christian. It means "simultaneously justified and sinful." He understood that while he'd already been saved (through justification) from sin's penalty, he was in daily need of salvation from sin's power. And since the gospel is the "power of God for salvation," he knew that even for the most saintly of saints the gospel is wholly relevant and vitally necessary—day in and day out. This means that heralded preachers need the gospel just as much as hardened pagans.
Well, I've had some great help along the way as I've wrestled with this "new idea." There have been some books (beneath the Bible) which have helped me better understand that God intends the reality of the gospel to mold and shape us at every point and in every way–that it should define the way we think, feel, and live. The following list of books is not exhaustive, but if you read them they will get you moving in the right direction toward a better, more Biblical understanding of the Christian's need for the gospel. If this idea is as "new" to you as it once was to me, these reliable teachers will serve you well (these books are in no particular order):
1. Transforming Grace by Jerry Bridges
2. The Discipline of Grace by Jerry Bridges
3. The Prodigal God by Tim Keller
4. Living the Cross-Centered Life by C.J. Mahaney
5. The Gospel for Real Life by Jerry Bridges
6. The Reign of Grace by Scotty Smith
7. The Jesus Story Book Bible by Sally Lloyd-Jones
8. How People Change by Tim Lane
9. Broken Down House by Paul Tripp
10. The Enemy Within by Kris Lungaard
Begin with these. It will do your soul good. I promise.
I pray that as you come to a better understanding of the length and breadth of the gospel you will be recaptured by the "God of great expenditure" who gave everything that we might possess all.
Have something to say about this article? Leave your comment via Facebook below!
About Tullian Tchividjian
William Graham Tullian Tchividjian (pronounced cha-vi-jin) is the Senior Pastor of Coral Ridge Presbyterian Church in Ft. Lauderdale, Florida. A Florida native, Tullian is also the grandson of Billy and Ruth Graham, a visiting professor of theology at Reformed Theological Seminary, and a contributing editor to Leadership Journal. A graduate of Columbia International University (philosophy) and Reformed Theological Seminary in Orlando (M.Div.), Tullian has authored a number of books including Jesus + Nothing = Everything (Crossway). He travels extensively, speaking at conferences throughout the U.S., and his sermons are broadcast daily on the radio program LIBERATE. As a respected pastor, author, and speaker, Tullian is singularly and passionately devoted to seeing people set free by the radical, amazing power of God's grace. When he is not reading, studying, preaching, or writing, Tullian enjoys being with people and relaxing with his wife, Kim, and their three children—Gabe, Nate, and Genna. He loves the beach, loves to exercise, and when he has time, he loves to surf.
Example: "Gen 1:1" "John 3" "Moses" "trust"
Advanced Search
advertise with us
Recently by Tullian Tchividjian
Recently on Crosswalk Blogs